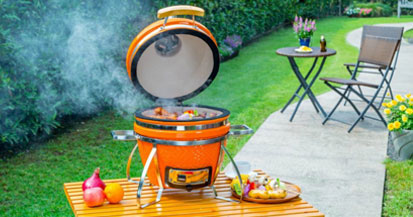 Throwing the ultimate pool party and barbecue is easy when you have the right outdoor furniture and patio appliances. Whether you choose to grill, serve sandwiches or simply enjoy the company of friends and family in the sunshine, Valley Spas & Pools has furnishing options that can turn an ordinary patio into the perfect space. Consider some of the top tips for throwing the ultimate pool party and barbecue.
Providing Comfortable Seating
Outdoor sofas, rocking chairs, armchairs, and ample cushions create a comfortable second family room for the warmer summer months. Powder-coated metal frames come in a multitude of colors to match nearly any décor, while outdoor-rated wicker is manufactured with easy cleaning in mind.
When picking out pieces, consider the number of people you plan on inviting to your backyard barbecue. In general, you need to plan for a few more people than you would normally invite to ensure there's enough seating to go around. Pair the chairs with easy-to-reach tables to hold drinks, snacks, and personal belongings.
Cooking Up Delicious Meals
With so many options to choose from, there's an outdoor grill to suit nearly any need. Built-in kitchens are ideal for large families and those who entertain bigger groups, while portable gas grills are easy to move from one location on your patio to another as needed.
Choose from grills with side burners to create classic menu items like vegetables, or opt for a grill with a rotisserie so you can slow cook meat to perfection. Consider grills with knobs that light up for nighttime cooking, or opt for a small charcoal grill that's easy to take with you for tailgating and camping when you choose to eat away from home.
Protection From The Sun
During the hottest months or when the sun is at its highest, provide guests with a comfortable place out of the direct sunlight. Decorate wooden pergolas with sprawling vines, or attach a matching umbrella to your patio table. Most umbrellas fold down neatly during windy weather or for times you prefer the sunshine. You can also choose from a multitude of colors to coordinate with your patio furniture, pillows, and other furnishings for a resort-like appearance.
Entertaining When The Sun Goes Down
Extend the party time well into the evening with the addition of a fire pit. LED lighting makes it possible to see what's going on around you, while textured glass accents deliver a modern feel. Gas fire pits eliminate the need to cut or look for wood and provide a warm environment in the fall or spring months when it gets chilly at night.
Round fire pits offer easy access from all sides for use while roasting marshmallows or hot dogs, while those with tempered glass or marble tops offer a place to set drinks and other items while still enjoying the fire. Add a swimming pool or a hot tub to the area to provide a needed respite from the hot weather in the summer and cooler weather in the fall and winter.
Contact Us
If you're looking to furnish your outdoor space for your next barbecue or pool party, contact Valley Spas & Pools in Hamilton, New Jersey, at 609-587-1772. Our professional staff members can go over our stock of fine furnishings and appliances that can turn your backyard into a comfortable place to entertain.