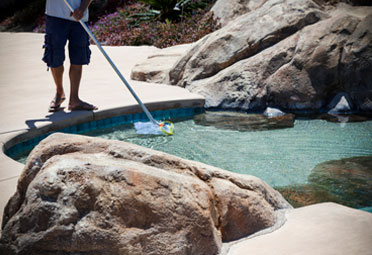 Your swimming pool is an investment, so it's important you keep it functioning correctly. Preventive maintenance performed at appropriate intervals protects swimmers, as well as pool surfaces and equipment.
Keeping tabs on your pool water chemistry is the most important task, but weekly cleaning and maintenance also keeps your pool and equipment healthy. Most aboveground and in-ground pool maintenance isn't difficult and takes minimal time when performed on an appropriate schedule.
Routine Water Testing
Testing your pool water chemistry is essential to the health of your swimming pool and those who swim in it. Without routine water testing, you don't know what your chemical levels are or what amount of chemicals to add to create a clean, safe swimming environment.
Monitor your water chemistry with quick, easy test strips or a more comprehensive liquid test kit. Test your water two to three times per week during the summer, or daily if your pool sees heavy usage. Ensure accuracy with professional testing every couple of weeks.
These tests offer the most thorough and accurate results and should also be performed anytime you develop a water problem you don't know how to solve. The place you buy your pool supplies typically offers free water testing for its customers.
Adjust Chemicals
Waiting too long between pool testing or adding the wrong amounts of chemicals can lead to cloudy, green, or unsanitary water. Adjusting chemicals appropriately maintains clean, comfortable, and aesthetically pleasing water. Pay close attention to your chlorine, pH, and alkalinity levels, which work together to create an ideal swimming environment. Most pools require:
Chlorine levels between 1.5 and 3 parts per million to keep germs and algae from spreading. Free chlorine acts as a sanitizer, but free chlorine bonded to nitrogen or ammonia becomes combined chlorine or chloramines. This makes chlorine useless, causes water to smell strongly of chlorine and irritates swimmers' eyes. To remove chloramines, contamination, excess bacteria after heavy pool use or visible algae, shock the pool with a powdered chlorine per label instructions.
A pH level of 7.4 to 7.6 for gunite and concrete pools, 7.4 to 7.7 for vinyl or tile pools and 7.3 to 7.5 for fiberglass pools. Higher pH levels damage your pool and its components, and lower levels cause germ-killing chemicals to stop working. Raise or lower your pH with the appropriate product per label instructions, but avoid correcting pH more than once per week.
A total alkalinity level between 80 and 120 parts per million ensures pH levels stay steady. Adjust total alkalinity in small increments. Sodium bicarbonate raises alkalinity without significantly raising pH, but soda ash raises both. Add muriatic acid in one-pint shots at the deepest end of the pool to lower alkalinity without significantly lowering pH.
Test and adjust calcium hardness and total dissolved solids monthly, and add a preventive dose of algaecide when necessary. Temperature drastically affects pool water chemistry, so pay closer attention to your water chemistry during hotter parts of the summer season.
Weekly And Monthly Pool Maintenance
One vital weekly in-ground pool maintenance task is checking your water level to ensure it's at the center of your pool skimmer or tile. Overfilling your pool causes the skimmer door to operate improperly, and keeping water too low can cause the pool pump to run dry and burn up. Other weekly tasks that help keep your pool water sparkling and your pool equipment operating at peak performance include:
Cleaning out skimmer basket(s) to remove collected debris
Inspecting pool water for clarity, color, and contaminants
Removing leaves and other debris with a skimmer net and telescoping pole
Vacuuming to remove sediment and debris you couldn't remove with a net
Cleaning the tile at the water line
Checking pool filter pressure and backwashing if the pressure is 8 to 10 pounds per square inch higher than your starting pressure point
Monthly pool maintenance tasks include:
Chemically cleaning the filter
Checking for cracks in concrete, gunite or fiberglass pools
Checking for holes or tears in vinyl liners
Inspecting sealant, grout, tile, and similar elements
Checking the seals in the pool motor and pump
Inspecting steps, handrails and other safety equipment to ensure it's in proper working order
Hire Top Pool Maintenance Experts
Appropriate pool maintenance protects your pool and swimmers. If you lack the time or inclination to perform regular pool maintenance yourself, hire the professional aboveground and in-ground pool maintenance experts at Valley Spas & Pools in Hamilton, New Jersey. We have over 60 years of industry experience.
Our friendly, knowledgeable staff members proudly provide quality service and the best products throughout Mercer County and the Trenton, New Jersey, metro area. Visit our showroom conveniently located on Route 33 in Hamilton, or contact us at 609-587-1772 to schedule your pool service today.