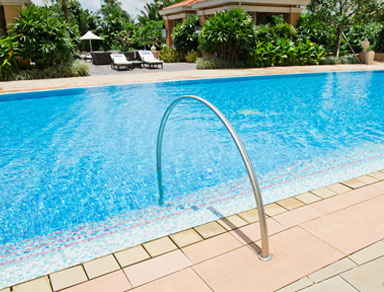 Valley Spas & Pools carries the inground pool supplies you need to keep your backyard pool clean and to operate properly. With over 60 years of experience to our credit, we've built a reputation for the quality of our service and the pool maintenance supplies we offer.
Chlorinated Water Treatment or Salt Generators
We have everything you need to set up your pool with salt generators that let you enjoy clean water without adding chemicals like chlorine. If you prefer a traditional chlorine method for cleaning your pool water, we also have everything you need to test the water to see how much liquid chlorine you need to add to it when preparing the water.
Pool Maintenance Supplies
Some pool maintenance supplies are made for short-term benefits to users, like products for water treatment. Supplies that are made to keep your pool in good condition for the long term include items like the winterization supplies and safety covers offered by Valley Spas & Pools.
New pool filters, new pumps, and kits for patching and repairing damaged areas in the pool help you extend the life of your pool. Other major pool maintenance supplies we offer include:
Heat pumps and gas-powered heaters to warm the water when temperatures drop
Replacement parts for most major systems of a pool
Motor ends to replace those that break down
Replacement pipes and fittings
Mineral sanitizing systems by Frog and salt generators to keep your pool water clean and fresh
Important Pool Supplies To Have On Hand
There are several important pool supplies you may want to keep on hand. These are the supplies that are consumed in the course of using a pool, making it necessary to replace them from time to time. When you stock up on these items, you have the assurance you won't run out when guests come over.
If you ever do find you're low on these supplies for inground pools when guests are coming over, reach out to Valley Spas & Pools using your preferred contact method to get quick help from one of our service technicians.
Testing supplies, like test strips, the kits for testing your pool water, and test kit refill drops
Jugs of liquid chlorine to adjust the safety level of the water after testing it
Bags of filter sand, pool salt, and DE
Pool cleaners that work robotically to keep your pool and water clean
There are several types of poolside supplies and accessories, like steps for getting in and out of the pool and ladders that are important to your ability to enjoy your pool. While these poolside accessories aren't vital to the upkeep of inground pools, they make a huge difference in your ability to enjoy and use your pool. Some of our other fun-themed offerings at Valley Spas & Pools include:
Slides and diving boards that add to the high-energy fun of using a pool
Games, floats, and toys that turn every swimming session into a party
Grills and fire pits for barbecuing and warming up chilly evenings
Pergolas and outdoor seating that create an outdoor living experience
Sounds systems and wireless TVs for impromptu and planned dance parties
Contact Us For Your Inground Pool Supplies
Call Valley Spas & Pools at 609-587-1772 during regular business hours or stop by our showroom at 1941 Route 33 in Hamilton, NJ, to browse through our selection of pools, spas, and supplies. If you prefer to contact us via the website, our contact form is available online for your convenience. Just add your contact information, and someone will get back with you as quickly as possible.