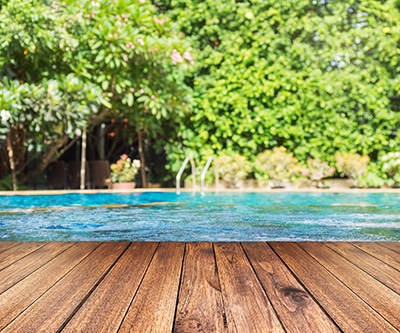 A pool is a pool is a pool, right? Well, not necessarily. Installing a pool in your backyard is a fast pass to tons of fun in the sun, but before you get out your bathing suit, you need to pick the perfect above-ground pool layout. Get your ducks in a row with these tips from the experts at Valley Spas & Pools.
Mimic the Look of An In-Ground Pool With Decking
When comparing in-ground pools to above-ground pools, the in-ground versions often win out simply because they look more integrated. If you're afraid your above-ground pool will stand out like a sore thumb, create (or recreate) your yard around the pool. One of the easiest ways to do this is to surround the pool with a deck. You'll get more space to sunbathe and enjoy snacks while dangling your feet in the pool, and the pool rim being level with the deck evokes that same seamless aesthetic you get with an in-ground.
A partial deck, such as a semi-circle around the backside of the pool, enables you to add a staircase or two upfront. You can also set up your pool against an existing structure, such as your fence, and build a partial deck to help complete the enclosure.
Make It A Focal Point
Truth be told, a giant above-ground pool doesn't need much help getting noticed. Still, laying out the rest of your yard to emphasize the pool's best assets will only boost the overall vibe. This could be as simple as constructing a flagstone path that leads from the house to the pool. You could also add a sunshade, line your path with floors, and install solar lights for those late-night dips.
Let There Be Light
Solar lights are just one way to illuminate your new pool. Tiki torches provide a warm glow that transforms your backyard into a beach retreat while string lights have a more twinkly, festival-like energy. There are even nifty products, including battery-operated lanterns, large light-up spheres, and candleholders you can hang from posts, to help guide your way to and from the pool.
Surround It with Character
There's no law that says you have to leave the exterior of your pool as-is. While you certainly don't want to make any changes that could compromise the structure and integrity of your pool walls, most cosmetic changes will be fine. Surrounding the pool with a stone retainer wall is perfect if you're creating a backyard that feels rustic. Wood paneling works too, or you can line up reeds or bamboo for a more tropical flare.
Add Landscaping To Your Above-Ground Pool Layout
The pool won't seem like it's floating in the middle of the yard if there are more natural landscaping features to blur the transition between the grass and the pool's exterior. Flowers, bushes, a vine-covered trellis, strawberry plants — it's really up to you. Just keep in mind that whatever you plant will be exposed to chlorine or saltwater, depending on the type of pool you choose. Hardier varieties will fare better in the long term.
Be Strategic with Seating
Fold-out chairs are the easiest way to accommodate a crowd, but that's not the most stylish or comfortable option. Consider adding padded benches to the deck area for a more satisfying place to sit. You could even invest in storage benches, so you have extra room to stow swimming gear and towels. If you enjoy cocktails or mocktails by the pool, build a partial deck that doubles as a swim-up bar and put bar stools on the opposite non-pool side.
Build the Backyard You've Always Wanted
At the heart of every party-worthy backyard is a pool, and Valley Spas & Pools has plenty. For over half a century, our family-owned and -operated business has sold hot tubs, pools, and other outdoor accessories to people in Hamilton, NJ, and beyond. Whether you know exactly what you want or need help bringing your vision to life, our experienced staff knows just what to do. To see our quality products firsthand,visit our showroom.