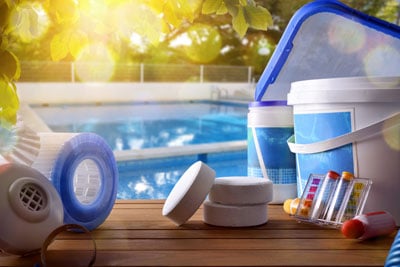 When temperatures start to drop and you're looking ahead to the cold winters we typically see here in Hamilton, New Jersey, you know it's time to close up your pool for the season. This vital step can help preserve the place where you and your family spend most of your time in the summer. At Valley Spas & Pools, our winterization checklist is comprehensive and tailored to the needs of your in-ground or above-ground swimming pool. Here, we'll explore what the process entails and how it helps save on costly repairs.
Why Should I Winterize My Pool?
Under freezing conditions, water and ice can do a lot of damage. Priming your swimming pool for winter is an important step in your overall care and maintenance routine, and readies your pool for the next swimming season. Deciding not to winterize can cause the following:
Broken lines
Damaged equipment
Winterization helps protect against expensive repairs that can delay the onset of swimming season when warmer weather returns. Winterizing also helps preserve your water. The specialized chemicals added to your pool help keep it clean in the off-season, so you don't have to spend an excessive amount of time tinkering with pH levels and getting rid of algae when you open your pool back up.
Closing Your Pool For The Winter
Winterizing a pool is a step-by-step process that takes care and diligence, but you'll be glad it was done when it's time to reopen your pool again for the summer. A typical winterizing process includes the following steps:
Cleaning
Using a brush, skimmer, and vacuum, we thoroughly remove dirt and debris in the water and along the surfaces of your pool.
Lowering the Water Level
During the winter, the water should sit below the skimmer and return lines. This helps ensure no water can get into the pumping system.
Turn Off, Drain, and Store Equipment
We remove the skimmer baskets, steps, ladders, solar blankets, and other pool accessories. We also turn off and drain your equipment. Storing your equipment in a dry place helps keep it safe and ready for the return of summer.
In-Ground Pools: Emptying Underground Lines
If you have an in-ground pool, we'll also take care of your underground lines. We'll make sure they're completely free of water and plugged to help prevent them from freezing and getting damaged during ice-cold winters.
Optimizing Water Chemistry
After your pool is clean, winterization chemicals are added to optimize the water. These chemicals help keep harmful bacteria and algae from infiltrating your pool in the off-season.
Installing the Pool Cover
As the final step, we'll cover the pool for you. The pool cover helps prevent staining, keeps out debris, and helps retain the lowered water level.
Save Pool Winterizing For the Professionals
Winterizing a swimming pool takes quite a bit of care each year. Let the experts at Valley Spas & Pools tackle it for you. Hiring us to take the hassle and guesswork out of the process can help make reopening in the summer that much easier. Serving Hamilton, NJ, we offer a host of services for pool and hot tub owners throughout the area. Contact us today for more information.