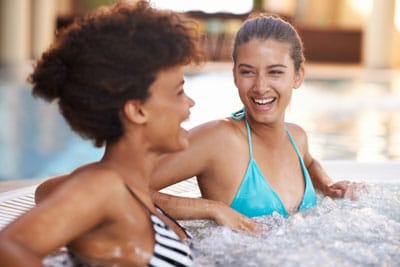 Relaxing in the hot tub helps ease mental and physical stress, making it a great place to unwind after a long week. When you're ready to hop in, does the weather outside make a difference? The climate in the Hamilton, NJ area ranges from hot, humid summer days to frigid winter nights, which can leave any homeowner wondering if a hot tub is truly a good investment. At Valley Spas & Pools, we believe hot tubs/spas can be used much more often than the average person may think.
Mild-Weather Soaks
Clear off the deck, arrange the patio furniture, and get the fire pit ready for s'mores season — it's time to set the stage for hot tubbing in springtime. Mild temperatures can complement those long-awaited, leisurely dips. Whether you look forward to stress-relieving soaks after tough work weeks or backyard barbecues with friends and family, your patio paradise is the place to be when the weather is just perfect.
If you're worried about the unpredictable weather patterns in spring, those April showers don't have to put a damper on your soak. As long as thunder and lightning aren't on the horizon, you can still enjoy your hot tub. The warm water will keep your body comfortable as the rain gently falls from the sky.
Warm Up During Autumn and Winter
When temperatures drop, why not warm up in your hot tub? Many people love a good soak surrounded by the scenic backdrop of turning leaves or snowy landscapes only Mother Nature can provide. The hot tub keeps your body warm in the chillier temperatures — a time when many could benefit from a steaming soak the most.
If you're someone who frequently feels stiff and sore when the cold air sets in, using your hot tub can help relieve some of that discomfort. Plus, there's no need to winterize your oasis if you're using it when the snow flies, saving you a little extra on upkeep along the way.
Beat the Summertime Heat
Dawn, dusk, and twilight are typically the ideal times to enjoy your hot tub in the summer months. The air is cooler, making a hot soak much more comfortable. However, did you know you can use your hot tub when temperatures peak around mid-day? While soaking in your bubbling hot spring under the blazing sun may make you feel like a lobster in a pot of boiling water, the right hot tub can make it a refreshing experience.
Thanks to technology like CoolZone from Hot Spring, you and the kids can beat the heat during the hottest points of the day in brisk waters. When get-togethers run later into the cool evening air, simply warm the water back up to keep everyone comfortable. Hot tubs with advanced temperature control make it easy to balance out the water to complement the current feel of the air.
Find a Hot Tub for All Four Seasons
Hot tub season doesn't have to be determined by Mother Nature — enjoy the health benefits of your hot tub year-round. From family gatherings to solo soaks, your hot tub can help you make the most of your favorite outdoor living area. Learn more about hot tubs and spas from the professionals at Valley Spas & Pools in Hamilton, NJ.