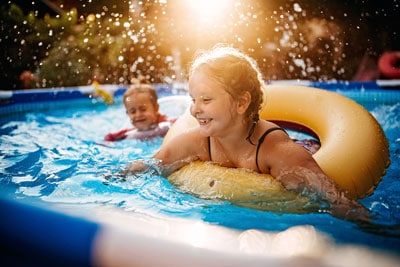 Relaxing under the sun, getting in your daily cardio, and hosting gatherings — it all happens in your above-ground swimming pool. With the proper care and maintenance, you and your family can enjoy your pool for years to come. Whether it's balancing the water or winterizing, the pros at Valley Spas & Pools understand what it takes to keep your pool up and running throughout the season.
Dive Into Water Care
An ideal aquatic environment ensures the health of family and friends and the longevity of your equipment. While the pump and filter system does some of the work, balancing the water chemistry is a big part of proper pool care. From algae buildup to equipment corrosion, it helps prevent microscopic contaminants from becoming major issues. Using a water test kit, shock treatments, and other pool supplies, you can evaluate the chlorine, pH, and alkalinity levels to ensure the water is an ideal environment for swimmers and your equipment.
Maintain a Weekly Cleaning Schedule
Should your pool get overly dirty and stay that way for an extended period of time, your equipment could get damaged. Sticking to a recurring cleaning schedule keeps swimmers happy and helps cut down on potential repairs. Coverage areas include:
Pool interior
Water surface
In addition to routine cleaning, covering your pool when it's not in use can take care of a lot of the debris issues many pool owners face. A solar cover helps prevent sticks, dirt, and bugs from clouding the pristine look of your pool while also retaining that warmer temperature many swimmers love.
Invest In Quality Pool Cleaning Tools
Investing in a few essential tools will help make routine cleaning easier. If you're a new pool owner, here are a few basics you'll need:
Pool Brush: Brushing your pool helps prevent scale, stains, and algae from collecting on the inner surfaces.
Pool Vacuum: Manual and robotic vacuums remove debris and sediment from the walls and bottom of your pool.
Pool Skimmer: Mesh skimmers make it easy to grab and discard leaves, insects, and other debris that floats to the surface.
If you're short on storage space, consider a set of pool tools that uses a single handle and interchangeable heads. Adjustable handles make it easy to reach deep down to the bottom and shouldn't take up too much storage space in your shed or pool house.
Off-Season Pool Care
Closing up your pool for the season requires more than just shutting off the equipment and tossing on the cover. Pool winterization is a series of important steps that help increase the longevity of your favorite spot under the sun. These steps include:
In-depth water/interior cleaning
Removing ladders and other pool accessories
Disconnecting hoses and plugging outlets
Adding winterizing water chemicals
Lowering the water level
Winterizing your swimming pool makes it easier to open it at the start of summer and helps prevent costly damage to the walls, lining, and critical equipment during the off-season. Some pool owners can do this on their own, while others prefer to leave this process to the professionals.
Get Help From the Pros
Proper pool maintenance is important to preserving your backyard oasis. Serving the Hamilton, New Jersey area, Valley Spas & Pools can help you maintain your above-ground swimming pool as long as possible. Reach out to us today for more information about the products and services we offer.