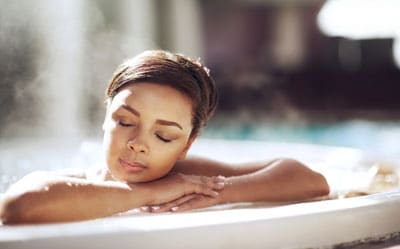 In the summertime, your patio is where all the fun in the sun happens. Create a backyard retreat that offers a place to swim and space to soak by installing a pool and a spa. Your hot tub can be part of your in-ground pool as a single installation or it can sit on its own in a separate corner of your property. Here, Valley Spas & Pools explores the benefits of both installations to help you make the best decision for your property.
Take the Plunge with an Attached Spa
An attached in-ground spa can make your pool area feel seamless. You can take a swim in the cool water of your pool, and then take a dip in the hot tub without really leaving the water. If you have a large enough area, installing an attached spa at the same time as your new pool can complement the landscape of your backyard oasis well. Some of the benefits of a combination pool and spa include:
Centralizes soaking, swimming, and socializing spaces
Easily move from cool to warm waters
Treating/cleaning your pool and spa is done at the same time
Spillover spas can be crafted in different shapes and sizes to suit the layout of your pool. The water of the pool and spa mingle together at the edge, adding an elegant aesthetic to your outdoor living space that reflects your style. Attached, raised spas are elevated at the edge of your pool, giving your swimming area a multi-level effect. Add a built-in waterfall to your pool and your backyard can feel like your own personal resort.
Soak In a Spa That's Separate from Your Pool
Pools and spas work well together, but can also work just as well in their own areas of your backyard. Place a hot tub on your deck near your house for easy access after rigorous workouts or position it in a quiet, shaded area of your garden for a more private relaxation spot. With tasteful landscaping, you can even make the two separate structures feel like a single backyard unit. A few benefits of detached spas include:
Ideal for decks and patios with limited space
Can be used year-round, even in the snow
Portable design can be relocated if needed
Along with these benefits, energy efficiency is another factor to consider. It's typically easier for standalone hot tubs to maintain their temperature between uses thanks to insulation and form-fitting covers. Standalone spa owners also often have greater access to more features, such as ergonomic seating and more powerful jets. Plus, if you've already installed an in-ground pool, opting for a detached spa could be the most cost-effective option.
Get In Touch With a Pool/Spa Professional Today
Design the backyard of your dreams with a little help from the pros. Whether it's built into your pool or placed in a location all its own, your hot tub is a place where you can relax and unwind. An expert can help you weigh the advantages and disadvantages of each based on your yard and your lifestyle. Reach out to Valley Spas & Pools in Hamilton, New Jersey for help in selecting an option that works best for your home.