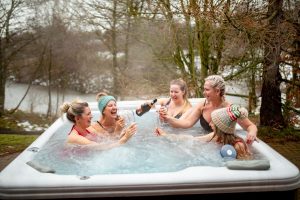 Enjoying a soak any time is one of the best parts of owning a hot tub. There's no wrong time to soothe away sore muscles or unwind after a long week, but hot tubs can also make special occasions more fun, and you and your loved ones can enjoy these moments even more with a dip in a spa. Here, Valley Spas & Pools takes a closer look at the best occasions for using your hot tub and why you'll want to keep it clean, clear, and ready for use every day.
Date Night
Date nights can get repetitive – you've been to the movies, out to dinner, and tried at-home alternatives like game nights. They can also be expensive as costs rise for dining, entertainment, and more. With a hot tub, you can enjoy a romantic evening in – any time – that feels more special than queuing up Netflix and ordering a pizza.
To set the scene, add sparkling string lights or candles to your outdoor living area and make a playlist of all your partner's favorite romantic tunes. Simple snacks and drinks or a bottle of your favorite wine are all that's needed as you savor quality time together under the stars.
Girls' Night In
It's hard to find time to catch up when everyone is busy with work, family, and more. At the end of the week, the idea of getting dressed up and heading downtown can feel exhausting. As an alternative, why not invite your squad over for an evening of drinks and snacks in the hot tub? It's an easy way to soak away the stresses of everyday life and focus on yourselves for a few hours.
A hot tub get-together can also be fun for celebrating a promotion, engagement, or any other milestone. Just grab a bottle of bubbly to toast the guest of honor and her accomplishments!
Cold Winter Nights
It might surprise you, but many spa owners keep their tubs open year-round. With a toasty temperature, you can soak no matter the season and on the coldest winter days and nights. If you've been dreading the colder months, hopping into your hot tub on the first day of winter can put a more positive spin on these chilly times.
Hot tubs can also bring a fun twist to your wintertime holiday traditions. Mix up a batch of hot chocolate or mulled cider and spend Christmas Eve in your spa, or ring in the New Year as you savor its warmth and bubbles. Just be sure you have warm robes and slippers at hand for after you get out!
Post-Celebration Relaxation
You've just hosted a big graduation party, baby shower, or family reunion. The guests have left, the cleanup is done, and you're worn out from a day of fun – and hard work. This is the perfect time to slip into your hot tub and let it wash away the day.
Hot tubs have been shown to offer benefits for sore muscles and stress, but you don't need to be recovering from a rigorous workout or tough day at work to enjoy the relaxation. They're the perfect spot to wind down after a get-together and put a calming conclusion on a perfect day.
Make the Most of Any Occasion with a Hot Tub
From everyday enjoyment to special moments, a hot tub can bring out the best in every occasion. If you're considering adding a spa to your outdoor living area or need service for an existing hot tub, contact Valley Spas & Pools today. From opening your spa for the season to creating the perfect relaxing oasis, we've helped countless homeowners in the Hamilton, New Jersey area find new ways to relax with hot tubs, pools, and more.