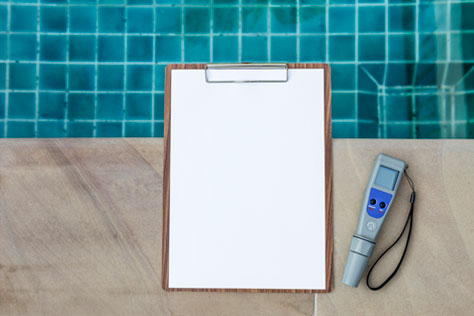 Goggles? Check. Foam noodles? Check. Bathing suit and towel? Check. You're well on your way to enjoying your new in-ground swimming pool if you have these supplies on hand. But just like a car, home or yard equipment, proper maintenance is necessary to ensure it stays in tip-top shape throughout the swimming season. Check out our list of essential supplies and equipment for basic pool upkeep and maintenance.
Proper pool maintenance can be sorted into three categories: pool circulation, cleaning, and chemistry. For each group, we'll provide a list of essential equipment you need.
Pool Circulation
Pool water that circulates properly is essential to maintaining your pool's proper condition. Moving water is cleaner, clearer and safer, and it's key to creating healthy swimming conditions.
Your pump and filter system should be running daily to maximize its circulation capability and prevent cloudy water and algae buildup.
In a perfect world, you'd be running your pool pump 24 hours a day, seven days a week, but it's usually not reasonable for the average person's equipment or budget. Running your pump for 10-12 hours a day is usually a good idea, as it's enough time to turn the water over a few times.
Pool Filters
Depending on your chosen setup, you might have one of these filter types:
Sand filter
Cartridge filter
Diatomaceous earth (DE) filter
Salt water chlorinator for salt water pools
Your pool filter is essential for proper upkeep. Without it, your pool water can become cloudy and unswimmable.
For great pool circulation, keep this essential equipment on hand:
Pool Cleaning
While your pool's pump and filter certainly can do the majority of the work to keep your pool water clear and clean, some upkeep does require a bit of elbow grease on your part. Here are some basic tools you'll probably need:
A net skimmer lets you remove leaves, debris, and residue from things like shampoo from the water's surface. Run the net along the surface of the water, capturing debris as you go while the water flows through the small holes.
Cleaning the walls of your pool becomes easier with a pool brush.
A pool vacuum is great for thorough weekly cleanings, as it can often capture debris that skimmers and brushes can't.
Keep in mind, too, that the drains built into the deep end of your in-ground pool will help pull water into the filter, so it captures debris loosened during cleaning.
Pool Chemistry
Keeping your pool water's chemistry balanced is important to ensure the safety of all your swimmers. The most important item for maintaining proper pool chemistry is your water testing kit.
Pool water test kits run the gamut from basic test strip kits to ones that resemble a chemistry set and check for factors such as alkalinity and levels of sanitizer.
ph Levels
This is a basic measure of how acidic or basic your pool water is. The ideal range for your pool is 7.4-7.6, which is considered neutral. The pH scale ranges from 0-14. Levels below 7 indicate water that's too acidic, and high readings indicate the water is too basic.
Alkalinity
This test works as a buffer against pH and helps you avoid spikes in acidity or basicity. An ideal range is 100-150 ppm.
Sanitizer Levels
This test measures the amount of chlorine, bromine, and other sanitizing chemicals in your pool water.
Once you know baseline values for pH, alkalinity, and sanitizer levels, you can start to add chemicals to adjust your water balance. Take your time and follow all the directions provided in the water test kit.
Pool Shock
Once in awhile, such as after a rainstorm or if lots of people have been using your pool, you may need to add some pool shock to help keep the water sanitary. Add pool shock at dusk or at night and run your pool pump for about eight hours afterward to make sure it's fully circulated.
For More Pool Maintenance Tips, Contact Valley Spas & Pools
At Valley Spas & Pools in Hamilton, New Jersey, we're ready to help you build the backyard of your dreams. Contact us for more tips on pool cleaning and maintenance or if you have questions about a new in-ground pool installation. Call us at 609-587-1772 for assistance.