At Valley Spas & Pools in Hamilton, New Jersey, we specialize in creating outdoor spaces that our customers love. Working in a variety of settings, we help customers extend their space by taking advantage of outdoor living that incorporates backyards, patios, decks, and gardens. Everyone wants to spend more time outdoors and we assist with planning and constructing comfortable, protected areas that fit many different purposes. Our pergolas are a design feature that can thematically pull together an area for entertaining, working, or solitude.
What Is a Pergola?
Originally an Italian term used to describe an arbor or trellis starting in the 1600s, this definition of pergola still works today. Outdoor pergolas range widely in size, materials, and decorative elements nowadays. While many people do grow vines and other plants on these structures, this is no longer their sole purpose. The shade provided by pergolas is greatly appreciated on sunny days, and they serve to demarcate outdoor rooms, whether the purpose is for entertaining, cooking, gardening, or relaxing.
How can this outdoor design feature improve your lifestyle? Just imagine a beautiful pergola providing an open roof design and side supports that coordinate with outdoor furniture or providing a focus point in the landscaping for a celebration or party. It might be a place to get a respite from too much sun while mowing the lawn or become a private place for meditation or stargazing on clear nights. Valley Spas & Pools staff can help you choose patio pergolas, or place pergolas on decks for use with hot tubs.
Sonoma 12 (in Redwood)
This handsome pergola rises 12 ft. into the air, providing a lovely pattern against the sky whether at night or during the day. Made of Douglas Fir and stained with a lovely redwood tone, it blends well in a variety of landscapes and garden settings. Grow plants and vines along the pillars, or set potted plants around their base. String lights for evening entertaining, and fit plenty of outdoor furniture inside the pergola for outdoor living opportunities.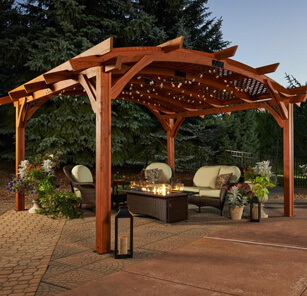 Sonoma 12 Specifications
Durable Douglas Fir, made in the United States
Precision cut and ready to assemble
Redwood oil-based stain finish
Hardware & anchor plates included (anchor hardware not included)
12 ft. x 12 ft.
3-year warranty on structure
Enhancements for Outdoor Living
With over 60 years of experience, Valley Spas & Pools offers excellent customer service to our neighbors in Hamilton, NJ. Visit our showroom to get some ideas for your home and property, or discuss potential plans with our helpful staff. We can help you envision ways to take advantage of existing structures or suggest new arrangements.
If you have always wanted a swimming pool in your backyard, Valley Spas & Pools can help. We offer both in-ground pools and above-ground pools, including dependable, knowledgeable installation. All of our products are sturdy and long-lasting. These pools are resistant to damage and stand up to the weather. We can help with planning, design, installation, and other services. Once your swimming pool or hot tub is installed, our customers can rely on our maintenance and repair services, as well as pool supplies.
These days, fire pits are becoming more popular. Gather friends and family around a well-controlled gas fire table for warmth in cool seasons, or let them become a focus for entertaining all year. Nothing spurs storytelling and camaraderie as well as an outdoor fire area.
Embrace Outdoor Living With Pergolas From Valley Spas & Pools
Homeowners in Hamilton, NJ, can enjoy the outdoors in comfort with products and services from Valley Spas & Pools. Would a soothing soak in the hot tub feel good in the evening or after a workout? Do you imagine an active swimming pool party on your birthday every year? We can help you create outdoor living spaces for a variety of purposes and lifestyles. Our pergolas are one way to set aside a space for entertaining or enhance your gardening and landscaping efforts. Let our experienced staff help you choose the right pergola for your purposes. Contact us today.