Valley Spas & Pools has been a Hot Spring spa dealer for more than 40 years, and we carry all the supplies and accessories you'll need as a hot tub owner. We also offer comprehensive hot tub services, with maintenance and repairs provided by our qualified team of technicians. Located in Hamilton, New Jersey, Valley Spas & Pools serves customers in Burlington, Mercer, and Monmouth counties, as well as the surrounding areas.
Our Hot Tubs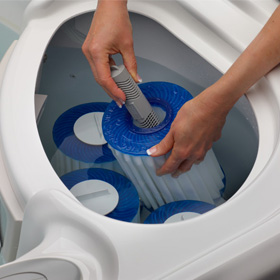 If you're considering adding a hot tub to your home, we are the ones to call. With a state-of-the-art showroom and an experienced team, Valley Spas & Pools can answer any question you have about owning and maintaining a backyard spa. You can even explore different Hot Spring models with our virtual tour. Valley Spas & Pools currently carries the following product lines from Hot Spring:
For customers on a budget, we also carry a selection of plug-and-play models from Fantasy Spas.
Spa Maintenance and Repair Services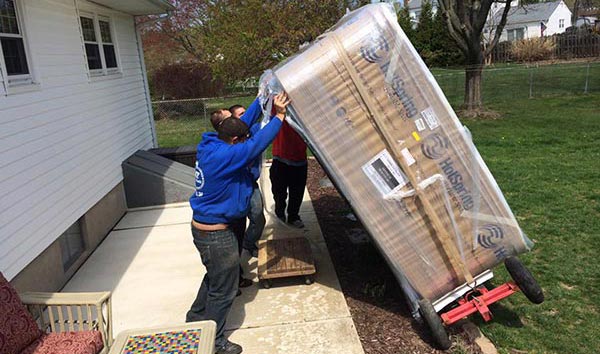 As an authorized dealer of Hot Spring brand hot tubs, you can count on Valley Spas & Pools for expert service whenever you need it. We offer the following for our customers:
Scheduled maintenance: Choose from weekly, bi-weekly, or monthly maintenance plans to keep your hot tub in optimal working order.
Winterization: Extend the life of your hot tub with our comprehensive winterization services.
Hot tub repairs: Our factory-trained service crews can perform any repairs needed on all models of Hot Spring hot tubs.
Spa tune-ups: If you need rapid service, our expert crew can perform a thorough inspection and provide routine maintenance on your spa.
Replacement spa covers: Over time, exposure to the elements can lead to wear and tear on your hot tub cover. Valley Spas & Pools supplies replacement covers, and we will even install your cover for you, as well.
Installation and Removal Services
At Valley Spas & Pools, our service crew receives extensive training on Hot Spring spa models. In addition to providing repair and maintenance, we also offer hot tub removal and reinstallation services. Customers who live within a 20-mi radius of our store can take advantage of our spa relocation service. We will remove the hot tub from your old home and carefully reinstall it at your new home. With excellent customer service and a convenient central location, we are the premier local choice for spa-moving services.
Accessories for Hot Tubs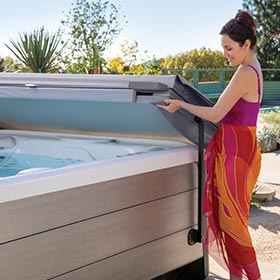 A few small details can go a long way in making your backyard a true oasis. At our store and showroom, Valley Spas & Pools has a wide selection of hot tub accessories, including:
Steps and handrails: Keep your guests safe and comfortable by adding a set of steps and a handrail to your hot tub, making it easier to get in and out.
Cover lifter: Protect your spa from the elements and make it easier to open or close your hot tub with our selection of cover lifters.
Water care systems and chemicals: Whether you choose a saltwater system or use traditional granular chlorine, it's easy to keep your spa water sanitized and clear with our complete line of water care products. We carry the FROG @ease In-Line System, as well as the Hot Spring FreshWater Salt System.
Entertainment systems: Enjoy your favorite music, movies, or TV shows from the comfort of your hot tub. We sell Bluetooth audio systems and HD monitors to pair with your Hot Spring spa.
Aromatherapy: Boost relaxation and melt away your stress with aromatherapy. We offer scent blends specifically formulated for use in your hot tub.
Choose Valley Spas & Pools for All Your Hot Tub Needs
Whether you and your family have enjoyed your hot tub for years or are thinking of purchasing a new one for your backyard, Valley Spas & Pools is here to help. With leading brand hot tubs, accessories, and best-in-class service, Valley Spas & Pools has been serving the community for more than 60 years. For more information about our services and the products we sell, visit our Hamilton, NJ, store or contact us today.