An increasingly popular feature of the modern backyard is the creation of outdoor furnished areas. Homeowners are designating portions of their yards for dining, playing, relaxing, and entertaining. This move toward outdoor living increases the amount of useful space available at home. And it's increasingly easy to embrace an outdoor lifestyle at home all year with durable, comfortable improvements. Choose from outdoor furniture and gas-powered fire pits available at Valley Spas & Pools.
Balsam Collection
Add beauty and function to your outdoor living spaces with our Balsam Collection of outdoor furniture. Sink into deep, cushioned seats and choose to include a loveseat, chairs, or both to create an inviting gathering place. These classic wicker seats are rated for outdoor use and pair beautifully with our Montego Fire Table.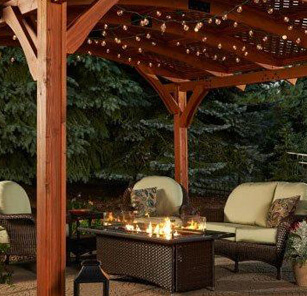 Balsam Collection Specifications
Outdoor-rated resin wicker material for easy cleaning
Deep seating for added comfort
Powder-coated metal frames
Sunbrella cushion fabric

---
Chat Chairs
These outdoor-rated cushions invite guests to grab a seat by the pool or rest between laps. Lightweight aluminum makes it easy to move these Chat Chairs wherever needed. And the rocking motion is relaxing for all ages. These modern outdoor furniture seats are perfect for pulling up to our Vintage Fire Table.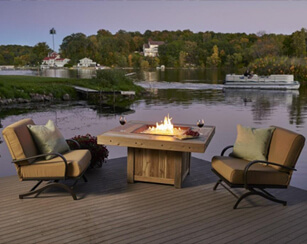 Chat Chair Specifications
Pair of 2
Modern, powder-coated aluminum frame in Dura Brown with tan cushions
Deep seating on a rocking frame
Outdoor-rated cushions

---
Empire Dining Chairs
Whether tastes run to backyard barbecues or sophisticated outdoor dinner parties, these Empire Dining Chairs fit the bill. With cushioned fabric padding and a sling style, diners have room to sit comfortably and join a lively dinner table discussion. These chairs swivel and rock, serving as ideal outdoor furniture chairs for dining or pulled up to our Stonefire Fire Table for after-dinner drinks.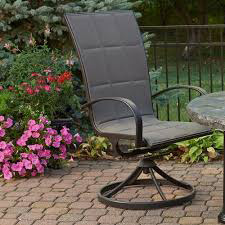 Empire Dining Chairs Specifications
Pair of 2
Outdoor-rated, fabric-padded sling in Taupe
Swivel/rocker dining chair
Powder-coated aluminum frame in Dora Brown Mesh
---
Empire Bar Stools
These elegant Empire Bar Stools are similar to the Empire Dining Chairs, except they are taller and don't allow rocking. They lend themselves well to a convivial atmosphere for gatherings of friends and colleagues. Swiveling allows for easy arrivals and departures from the table or our Marquee Pub Height Fire Table.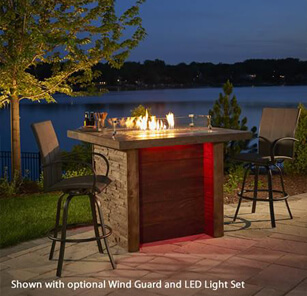 Empire Bar Stool Specifications
Pair of 2
Outdoor-rated, fabric-padded sling in Taupe
Swivel bar stool
Powder-coated aluminum frame in Dora Brown finish
---
Create Outdoor Living Rooms with Pergolas
Our beautiful, solid wooden Pergolas provide a sheltered environment for outdoor living. These eye-catching structures are made in the United States with Douglas fir. Pergolas are a focal point for gatherings, helping to define the space for your outdoor furniture and other outdoor living features. Whether you pursue hobbies, fitness, gardening, or other outdoor activities, the pergola can provide shaded areas of comfort, or lighting by night. These handsome structures can help create privacy for your hot tub or spa or stand invitingly alongside the swimming pool.
Outdoor Furniture, Fire Pits, Hot Tubs, and Pools in Hamilton, NJ
Valley Spas & Pools provides homeowners in Hamilton, New Jersey, and the surrounding area with almost everything needed for outdoor living, from outdoor patio furniture to a soothing hot tub. We also offer pool supplies and can service both your spas and swimming pools. Find the right outdoor furniture for your ideal backyard living spaces with choices of classic or modern styling, outdoor-rated fabrics and cushions, and fun features, such as swiveling and rocking that are just made for the outdoors. Pull up to a gas fire pit table, gaze out at the water, or sit down for an overdue chat with friends and family.
Our family-owned and operated business has over 60 years of experience installing outdoor living features and providing outdoor furniture. Don't wait until next year to expand your living space by creating outdoor rooms that meet the needs of you and your family members. Contact us today.