Valley Spas & Pools offers a wide range of quality accessories for a hot tub to make your spa experience even better. Based in Hamilton, New Jersey, our showroom features spa-side accessories and equipment from leading brands, many designed to coordinate with Hot Spring hot tub models.
Water Care Accessories
Enjoy worry-free maintenance with our easy-to-use water care systems for both traditional and saltwater spas. Valley Spas & Pools carries: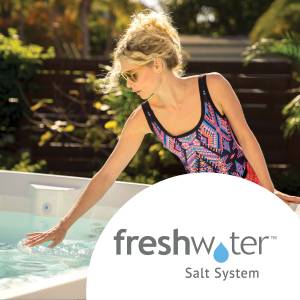 FRESHWATER® SALT SYSTEM
With just a little salt, this system will automatically generate chlorine, taking the guesswork out of hot tub maintenance. The FreshWater Salt System is available for all HotSpring Highlife Collection and Limelight Collection spas.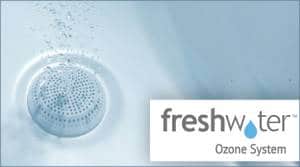 FRESHWATER® OZONE SYSTEM
The FreshWater Ozone System keeps your hot tub clean with ozone and silver ions, reducing the need for chlorine. Test strips allow you to monitor your spa's pH, MPS, and alkalinity levels.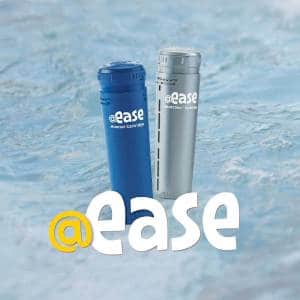 FROG® @ease® IN-LINE SANITIZING SYSTEM
This user-friendly sanitizing system, available for use with Hot Spot spas, automatically dispenses SmartChlor chlorine and minerals to maintain consistent water levels with up to 75% less chlorine.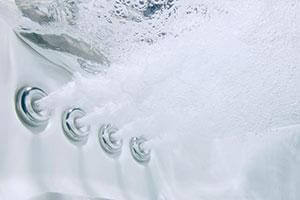 Traditional Water Systems
Take the conventional approach of adding granular chlorine as needed to keep your spa water levels in check.
---
Spa Side Accessories
These products are designed to stand up to the elements and coordinate with your spa.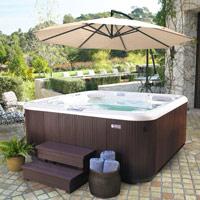 Spa Side Umbrella
Enjoy shade while using your hot tub or patio furniture with this outdoor umbrella. The powder-coated aluminum and zinc-plated steel frame resists rust and a base plate slips under the spa cabinet to hold the umbrella firmly in place. The 9 ft. 9 in. diameter canopy rotates 360° and is available in Crème or Navy Blue.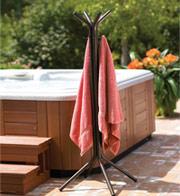 Spa Side Towel Tree
Have your fluffy towels handy with this sturdy, easy-to-assemble towel tree, featuring powder-coated aluminum and coming in an attractive bronze finish.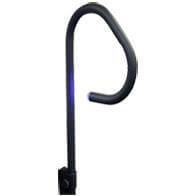 Spa Side Hand Rail
Keep your guests safe with this sturdy handrail that swings inward or outward to help you get in or out of the hot tub. A battery-powered, built-in LED light on the interior curve of the rail means you can use it at night, too.
---
Cover Lifters
Covering and uncovering your hot tub is a breeze with the help of these cover lifters: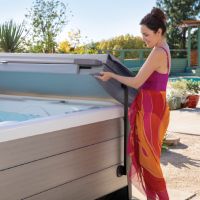 CoverCradle® Cover Lifter
This top-of-the-line lifter has dual pneumatic gas springs in the arms and an ultra-smooth gliding mechanism, so it's easy to remove your cover at any time. Requires 24 in. clearance.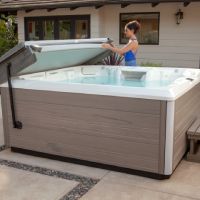 CoverCradle II Cover Lifter
This is similar to the CoverCradle Cover Lifter but has a single pneumatic gas spring instead of two. Requires 24 in. clearance.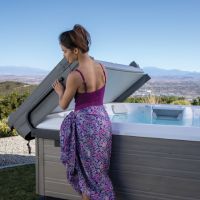 Lift 'n Glide® Cover Lifter
A great option for hot tubs in smaller spaces, this cover requires just 14 in. of clearance.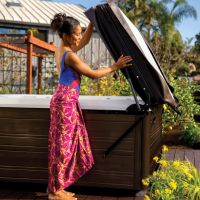 UpRite® Cover Lifter
Ideal for settings with limited clearance, this lifter folds the cover behind the spa bar top. Requires only 7 in. clearance.
---
By reducing the wear and tear that comes with manual removal, these lifters help extend the life of your spa cover.
Steps
Hot Spring's portable spa side stairs make it easy to get in and out of your hot tub comfortably. Plus, these steps come in different colors to match the shade of your spa cabinet.
HIGHLIFE® COLLECTION STEP
Made from durable polymer with textured treads, this contemporary-style step is designed to perfectly match the corners of the spa cabinet. It comes in two colors, Smoke and Cocoa.
Product dimensions: (33.25 ft. L X 24.375 ft. W X 15.125 ft. H)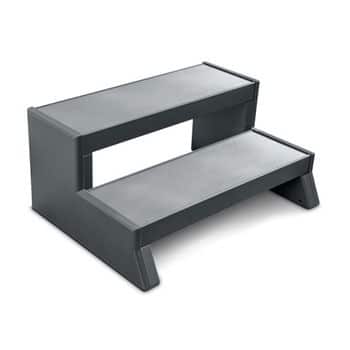 Smoke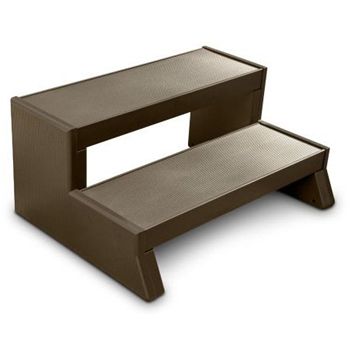 Cocoa
---
EVERWOOD® STEP
These wear-resistant steps are made to match the Everwood spa cabinet. Rigid, heavy-duty polymer creates a natural wood appearance. Colors include:
Product dimensions: (32 in. L X 21.75 in. W X 15.25 in. H)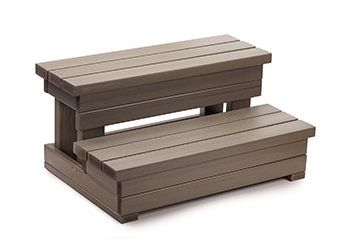 Coastal Gray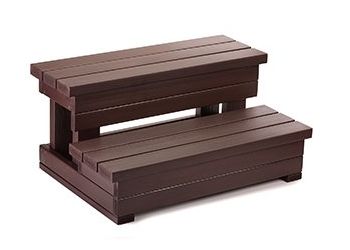 Espresso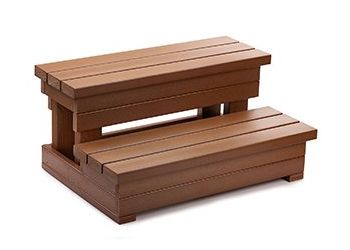 Teak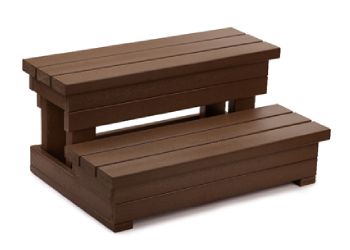 Sable
---
POLYMER STEP
An affordable and lightweight spa step that's 100% recyclable but still durable. Available colors include:
Product dimensions: (30.65 in. L X 24.31 in. W X 16.31 in. H)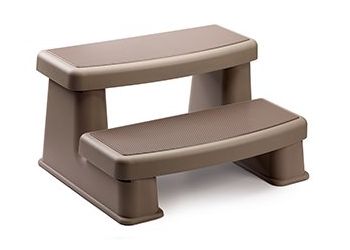 Coastal Gray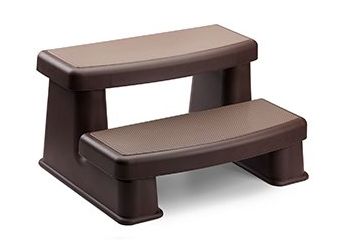 Espresso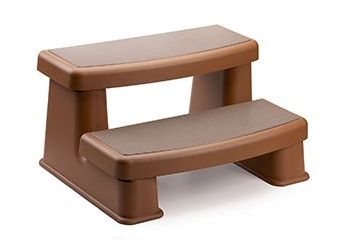 Teak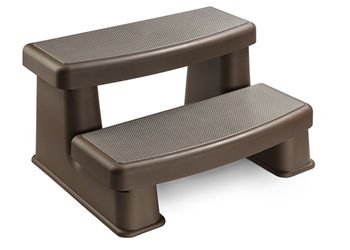 Sable
---
Entertainment Accessories
Get the full entertainment experience with your HotSpring spa. Many styles come with multi-colored lighting systems, as well as fountain and waterfall features. Optional accessories include:
Wireless Audio System with Extended Bluetooth Technology
Some Hot Spring models feature a cutting-edge touchscreen control panel that can be removed from its dock and used as a water-resistant remote with a 30-ft. range. Control lights, jets, water temperature, and music from the interactive touchscreen. Music settings let you select multiple input sources, play, pause, switch tracks, adjust volume, and display artist names and song titles.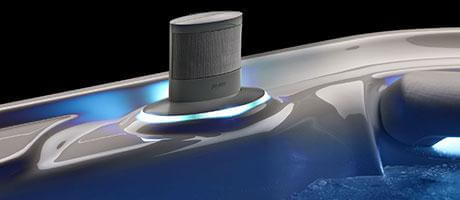 22" HD WIRELESS MONITOR
Enjoy live TV or stream your favorite shows and movies while you relax in your spa. This all-weather, HDMI-enabled 22 in. monitor features:
1080P screen resolution
Anti-reflective and anti-glare coating on tempered glass
Sturdy monitor pedestal
For added protection, a heavy-grade vinyl monitor cover is sold separately.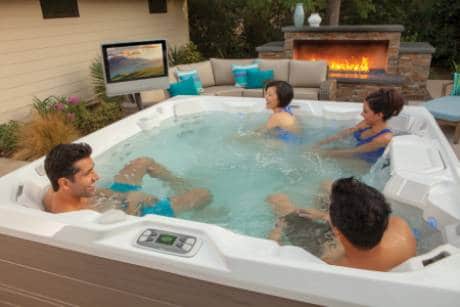 CONNECTION™ REMOTE MONITORING SYSTEM
Our innovative remote monitoring solution provides peace of mind for spa owners. Easily check on your hot tub and adjust settings from this user-friendly mobile app. Perfect for those who are on the go frequently or have a spa at a second home.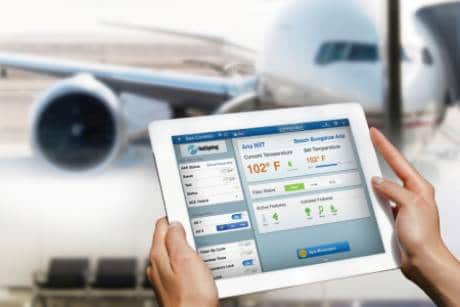 COOLZONE System™
Get even more use out of your spa with this water heating and cooling system. On hot days, you can lower the water temperature for a refreshing soak. The CoolZone System lets you decrease the water temperature down to 60° Fahrenheit.
Shop Accessories for Hot Tubs
Serving homeowners in Hamilton, NJ, and the surrounding area, Valley Spas & Pools has been a family-owned business for over 60 years. We are happy to answer any questions you may have regarding hot tub accessories, entertainment systems, water care solutions, and more. For more information, contact us today.