There are few joys in life better than coming home after a long and tiring day and soaking in a new hot tub – not to mention the multiple health benefits it provides. Homeowners in Hamilton, New Jersey, and the surrounding areas can make this a part of their daily routine by calling upon the services of Valley Spas & Pools. Learn more about the inventory of top-of-the-line products we offer our customers.
Find Your Perfect Hot Tub
HIGHLIFE® COLLECTION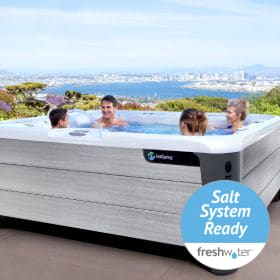 Our best-selling line with exclusive features, innovative hydrotherapy and timeless design.
LIMELIGHT® COLLECTION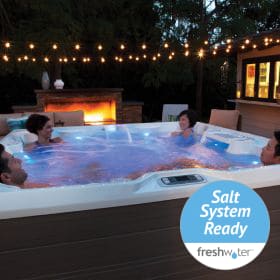 Fresh styling clean lines and unique lighting add beauty and ambiance to your spa experience.
Hot Spot Collection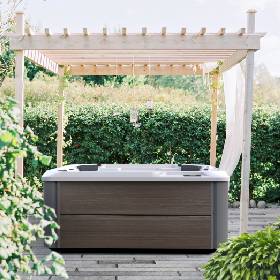 The right blend of quality, performance and value backed by a brand you can trust.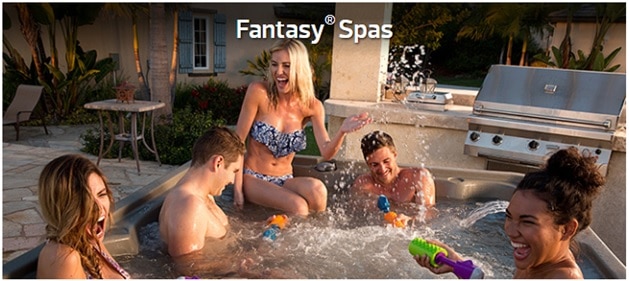 Our Hot Tubs
Owning a spa is like having a personal hot spring in the comforts of your backyard. Ideal for relaxing and soothing aching muscles, hot tubs are an excellent investment. At Valley Spas & Pools, we believe in providing our customers with quality products and proudly display Hot Springs spas and hot tubs in our showroom. These high-quality hot tubs have various desirable features to make your experience more enjoyable. The Hot Springs hot tub models we carry include:
Highlife Collection
Advanced engineering for maximum enjoyment, Highlife Collection hot tubs are designed to provide customers with a one-of-a-kind experience. This line of state-of-the-art hot tubs couples a timeless design with exclusive elements for your soaking pleasure, such as:
Powerful massage system: The Moto-Massage DX moving jets target all areas of your back, delivering a unique massage experience.
Water filtration system: Enjoy crystal clear clean water thanks to the hot tub's Exclusive no-bypass filtration system and dishwasher-safe Tri-X filters.
Insulation: This line of hot tubs includes full-foam insulation for added efficiency and potential savings on energy costs.
Convenient remote control: Easily operate your spa with the included remote control that works up to 30 ft away.
Superior durability: Highlife Collection hot tubs have a wood-free polymer support and base pan construction for maximum life expectancy.
Limelight Collection
Customers looking for excellent performance and elegant styling will find both in the Limelight Collection. For enhanced relaxation, these hot tubs contain comfortable seats and powerful jets that range from the shoulder area down to the toes. Precision jets and combination jets offer the perfect massage.
Like all Hot Springs spas, the Limelight Collection contains energy-saving components to ensure you get the most out of your investment. Additionally, the unique lighting helps create a pleasing ambiance that everyone will enjoy.
Hot Spot Collection
Add a Hot Spot Collection tub to your home to incorporate style and function into your space. Customers marvel at the eye-catching finishes and elegant design details of Hot Spot Spas. Ideal for both indoor and outdoor spaces, these tubs are available in soothing color palates intended to complement any home decor.
Every aspect of this spa provides complete relaxation. Treat any problem areas of your body with the easy-to-turn directional hydro massage jets, and allow the rotary hydro jets to create a rotating stream of water for even more of a massage sensation.
Fantasy Spas
Simple and affordable, Fantasy Spas are plug-n-play hot tubs created for those who need a convenient home spa solution. Customers fill their tub with water and plug it into any standard 110v outlet to enjoy – no need for additional plumbing or costly wiring.
These unique hot tubs are also very lightweight, making them easy to move throughout your property. You could even take this hot tub on a camping trip to bring the spa experience to your vacation. The affordability of these spas does not sacrifice their durability, as their polyethylene resin construction offers increased strength.
Browse Our Showroom of Beautiful Hot Tubs
We welcome those in Hamilton, NJ, and the surrounding towns, such as Allentown, Bordentown, Chesterfield, Lawrence Township, New Egypt, and Trenton, to come and see these beautiful hot tubs for themselves. Our showroom features 15 models for clients to observe and test the exclusive aspects of these hot tubs.
Backed by over 60 years of expertise, the dedicated team at Valley Spas & Pools can answer any questions you have while sharing details on our excellent hot tub services. Contact us today for more information on turning your backyard into a personal oasis with one of our soothing tubs.