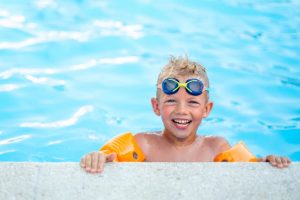 At Valley Spas & Pools, we're not just a pool supply store – we have a complete set of maintenance and repair services to ensure that pool ownership is stress-free for you and your family. Located in Hamilton, New Jersey, we provide swimming pool services to customers in Burlington, Mercer, and Monmouth Counties. We cover every aspect of pool monitoring and maintenance, from supplying replacement parts to providing diagnostic services. And at our state-of-the-art showroom, our welcoming staff can help you find everything you need to keep your swimming pool in optimal working order.
Pool Maintenance Services
As a pool owner, you know that preventative maintenance can protect your investment and ensure that your family can enjoy your swimming pool for years to come. To keep it in top shape, Valley Spas & Pools offers a comprehensive set of care services, including:
Pool vacuuming and cleaning: Need quick service before a family gathering or party? Our service crew will clean and vacuum your pool for you.
Summer maintenance program: Enjoy clean and clear water throughout the swimming season with regularly scheduled service through our summer maintenance program.
Filter sand change: We'll put fresh sand in your filter to help keep it running smoothly.
Pool sitting service: If you're heading out of town on vacation, our service crew can keep an eye on your pool while you're away.
Pool openings and closings: Let us take the big tasks off your to-do list each year. Call on us in the spring to set up your pool for the season, and again in the fall to close it up.
Winter watch: Our crew will provide pool maintenance during the winter, including inspecting your equipment, cleaning off the pool cover, and testing and adjusting the water as needed.
Fountain maintenance: In addition to pool maintenance, Valley Spas & Pools provides weekly maintenance services for commercial fountain owners in stores, shopping malls, and other locations.
Diagnostics and Repairs
At Valley Spas & Pools, we pride ourselves on providing prompt, dependable on-site service whenever you need it. Don't put off repairs – call on us right away so you can get the most enjoyment out of your pool or hot tub. As a leading provider, we carry a complete line of replacement parts for swimming pools and hot tubs, and offer diagnostic services, replacements, and repairs for the following:
Filters
Pool and hot tub pumps
Gas heaters
Heat pumps
Automatic cleaners
Cover pumps
Salt generators
In-ground pool vinyl liners
Our team also sells and installs safety covers and fences, so you'll have peace of mind all year long.
Pool Supplies and Accessories
At our Hamilton, NJ, store, you'll find everything you need to maintain your pool year-round, as well as fun accessories. Our inventory of pool supplies includes:
FROG products: Enjoy clear pool water with less chlorine with a FROG sanitizer system. FROG water care products are also available for hot tubs.
Test kits: Monitor your pool's chemical levels with our user-friendly test kits. We also sell refill drops and test strips when you need to restock.
Automatic chlorinators: Take the guesswork out of pool-water care with an automatic chlorine feeder. It dispenses chlorine into your pool as needed, maintaining consistent levels. This eliminates the chore of adding chlorine tablets manually.
We also have a wide range of accessories, such as:
Ladders
Steps for above-ground pools and hot tubs
Slides
Diving boards
We also sell items like outdoor furniture to enhance your poolside relaxation.
Swimming Pool Removal Services
If you need your swimming pool removed, Valley Spas & Pools is here to help. Our crew members are experts at safely removing above-ground pools. We also offer fill-ins for in-ground pools as needed. The Valley Spas & Pools team is well-known in our service area for our high level of efficiency and professionalism.
Get in Touch with Valley Spas & Pools Today
Whether you need a filter replacement part or want year-round service, Valley Spas & Pools is the company to call. Serving Hamilton, NJ, and the surrounding area for more than 60 years, our team's dedication and customer service are unparalleled. For more information about swimming pool service, contact us today.