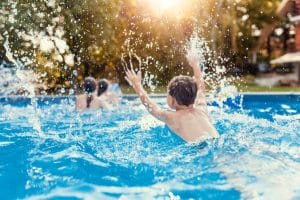 If you've always dreamed of creating an outdoor space for entertaining family and friends, you can choose from pools, spas, furniture and even fire pits with Valley Spas & Pools in Hamilton Township. Whether you already have a design in mind or are looking to see what's offered, you can find what you need in our retail spot.
Who We Are
In business for more than 60 years, Valley Spas & Pools is a family-owned and -operated business that provides and services hot tubs and pools in the Hamilton Township area of New Jersey. Whether you know exactly what you want for your backyard or have been toying with the idea of installing an in-ground or above-ground pool, our team of sales professionals can help. We offer some of the finest product lines in the industry, so you can rest assured anything you purchase from us is designed to last.
At Valley Spas & Pools, we have a large showroom showcasing our full line of specialty products including over 15 hot tubs, an above ground pool display, 3 different full size patio designs for inspiration, fire pit tables, wood pergolas, filters, pumps, automatic/robotic pool cleaners, salt systems, pool toys, goggles, floats, maintenance equipment, parts, etc. We also offer friendly staff members who are here to help you with any and all of your pool or hot tub needs.
Our Pools
From custom-designed Cardinal steel-walled in-ground pools to space-saving above-ground designs, our pools are made by some of the top brands in the industry. Not only can we help you choose a pool that perfectly fits your space, but we also offer affordable and reliable installation and pool services, so you can have your pool up and running as soon as possible.
Hot Tub Services
If you prefer a steamy place to rest, a hot tub might be the answer. We sell top-quality Hot Spring hot tubs that are made of quality materials and come with a wide range of features. From small designs that fit easily onto small outdoors patios to larger 8 person hot tubs perfect for entertaining, we have it all. We also sell a wide range of accessories to make your hot tub complete and hot tub services, including:
Handrails
Cover Lifters
Spa Steps
Spa Umbrellas
Replacement Spa Covers
Spa Aromatherapy Crystals and Elixirs
Additional Products
Aside from swimming pools and hot tubs, we also offer many other products to make your backyard more complete. We sell fire pit tables to keep the area warm on cold nights and grills so you can serve food to your loved ones. Other products include pergolas and select outdoor furniture.
Purchasing Supplies
Valley Spas & Pools is a leader in spa and pool supplies. We know how important it is to keep your pool and spa water clean and sanitary for the health and safety of all users. We carry salt generators to help eliminate the need for chlorine and other chemicals, or you can choose a traditional pool setup and opt for a test kit and liquid chlorine.
We also provide steps, slides, diving boards and ladders for easy access in and out of the water, and we have a large selection of floats, games and toys to keep everyone occupied.
Contact Us
If you need more information on the available options for your yard and want to know more about our company, contact one of our friendly sales professionals at Valley Spas & Pools in Hamilton Township at (609) 587-1772. We can help you decide on the right choice for your outdoor living space.
Services