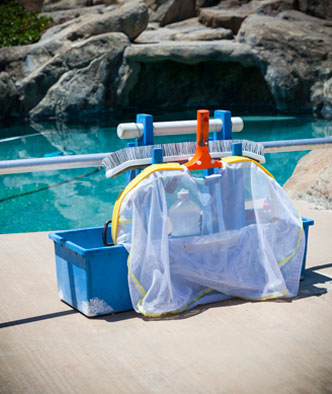 When it comes to cool summertime fun for the whole family, few things can compete with an in-ground pool, but swimming season means extra work. Contamination from leaves, bugs, and other debris can detract from the beauty of your pool, and regular maintenance is vital to keep your pool sparkling clear and inviting. What many new pool owners should know is that in-ground pool cleaning may be simpler than you think, and Valley Spas & Pools is here to help.
Skimming And Vacuuming
Skimming your pool's surface is probably the easiest step you can take to remove debris from the water. By incorporating this process into your family's daily pool routine, you'll rid the pool of detritus before it breaks down and causes cloudy water.
Our pool store sells two varieties of nets: flat skimmers and bag skimmers. Bag skimmers hold more debris, so you spend less time spent emptying the net, and flat skimmers are generally more maneuverable and easier to empty. While skimming can be done either from the deck or while in the pool, a telescopic pole can extend your reach, making the process easier. Invest in a heavy-duty net, which is less likely to break with daily use.
Unfortunately, even with regular skimming, you won't catch everything, so a pool vacuum is essential for capturing debris that collects on the bottom. Many pool vacuums are manual and relatively inexpensive, but if you can afford it, a robotic pool vacuum can make pool maintenance much less labor-intensive.
Brushing
No matter how meticulous you are in keeping your pool's chemistry balanced, algae buildup is almost unavoidable. To keep this nuisance in check, twice-weekly brushing is recommended.
What type of brush you buy depends upon what your pool is made of. Fiberglass, vinyl or painted-concrete pools require brushes with nylon bristles, while gunite surfaces need to be cleaned with stainless steel bristles. For pools made of unpainted concrete, you can use either type of brush.
When you're brushing, make sure to scrub all your pool's surfaces, including the walls, floor, and ladder, paying special attention to nooks and textured areas where algae is likely to collect. While it may seem counterintuitive to scrub the algae into the water, you're ultimately making it easier for the pool's chemicals to do their job more effectively.
Filter Maintenance
Your filtration system plays an essential part in pool maintenance, removing bacteria and contaminants such as leaves, insects, and residue from health and beauty products from the water once the chemicals have killed or neutralized them. Your pool's filter includes a pump that circulates your water and a built-in skimmer where debris is deposited in buckets, which should be emptied regularly. You should run your filter for a minimum of 10 to 12 hours each day to maximize its effectiveness.
Filters should be backwashed frequently to carry dirt and contaminants away from your pool. Specific instructions on caring for your filter vary depending on the type of filter you've chosen, and it's always best to refer to the product manual or consult a pool professional.
Basic Pool Chemistry
An essential part of caring for your pool is keeping its chemistry at effective levels. To do so, you'll need to know your pool's pH, sanitizer, and alkalinity levels, which you can measure with an easy-to-use home testing kit. Once you know the specifics of your pool's chemistry, you can adjust it as needed. Our trained pool professionals are always available for consultation.
Pool sanitizers, which help keep your pool safe for swimmers, sometimes need a boost to do their job, particularly after rain or when your pool has had many users. To accomplish this, you'll need a product called shock. For maximum effectiveness, you should add shock after the sun goes down and let your pump run for at least 8 hours to ensure proper circulation.
Hire A Professional
While an in-ground pool can be one of the most enjoyable investments you make, not everyone wants to tackle the care involved. If you live in the Trenton, New Jersey, metro area, let Valley Spas & Pools help with all your in-ground pool cleaning needs. Contact us to find out more about our summer maintenance programs and other available services, or stop by our state-of-the-art showroom to pick up the supplies you need to keep your pool looking great.