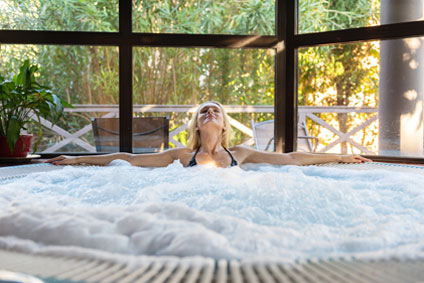 Hot tubs provide a great opportunity to take a soothing soak either alone or with family and friends. High-quality hot tubs are designed to be simple to use and maintain, but take appropriate precautions to protect everyone who uses it.
Maximize your soaking satisfaction with routine hot tub maintenance and basic hot tub safety to ensure optimal health and hygiene and a safe environment in and around the tub.
Hot Tub Maintenance
Create a regular maintenance schedule to keep your hot tub and all its components in tip-top shape. Proper circulation, cleaning, and water chemistry keep your tub free of contaminants and running smoothly.
Circulation ensures water passes through the filter system so contaminants are captured within the filter and the water is refreshed. Most hot tub models automatically circulate once or twice daily, depending on your usage. If your model doesn't include auto filtering, turn it on for about 15 to 20 minutes twice daily.
Drain your spa completely every three to four months for deep cleaning. Rinse hot tub filers frequently with warm water, spray them with a filter cleaner weekly and soak them in a chemical cleaner each time you drain and refill the tub to loosen stubborn particles and extend their life. If a chemical soak doesn't completely clean a filter, replace it.
Keep your water chemistry balanced to ensure your water stays clear and sanitary by testing it at least weekly with test strips or a liquid test kit. Adjust your sanitizer levels, pH, and alkalinity accordingly. Take a water sample to your local spa dealer for professional testing if you have balance issues you can't solve yourself.
Hot Tub Electrical Safety
Water and electricity can be a dangerous combination, so follow electrical safety precautions to ensure personal safety. Avoid the risk of electrocution or expensive damage to your hot tub by:
Only hiring licensed professionals to work on your hot tub's electrical components, including lighting or entertainment features
Learning where your hot tub's electrical panel is located and how to safely disconnect the power in case of emergency
Never using plugged-in electronic devices in or near your hot tub
Never get into an outdoor hot tub during a thunderstorm in which lightning could strike the water
Personal Hot Tub Safety
Babies and children under the age of 5 should never use a hot tub due to the risk of overheating and dehydration. Older children can use the hot tub for short periods of time if they're tall enough to stand on the bottom with their head completely out of the water.
Drop the spa temperature to 98 degrees when children are using the tub, and have them sit on jump seats to avoid full-body immersion. Every hot tub user should also follow standard hot tub safety precautions, which include:
Staying hydrated by drinking plenty of liquids before and after your soak
Talking to your doctor about hot tub safety if you're pregnant or have a medical condition that makes you sensitive to increases in body temperature
Staying out of the hot tub while you have open wounds or sores, healing surgical incisions or other skin conditions that could become infected and/or contaminate the water
Never consuming alcoholic beverages before or during a soak, as they can impair your judgment and make you more susceptible to dehydration
Never getting into the hot tub if you're drowsy due to prescription medication, street drugs, alcohol or other depressants
Monitoring water temperature to ensure it never goes above 104 degrees, or lower for those with heat sensitivities
Hot Tub Safety Accessories
Simple hot tub accessories enhance the accessibility and safety of your hot tub. Steps designed specifically for your hot tub provide a safer way to enter and exit. Add a handrail to further assist you with balance and navigation of steps, especially in dim light or if you have limited mobility.
Always install a locking hot tub cover to keep debris from entering, help insulate the tub for better energy efficiency, and ensure children and pets can't enter the tub without your knowledge.
Contact Our Hot Tub Experts
Valley Spas & Pools in Hamilton, New Jersey, has over 60 years of industry experience and proudly services pools and hot tubs throughout Mercer County and the Trenton metro area.
Whether you have water chemistry issues or your hot tub develops operational issues, we have you covered with professional hot tub services to get you safely soaking again. Contact us at 609-587-1772 today for all your hot tub needs.