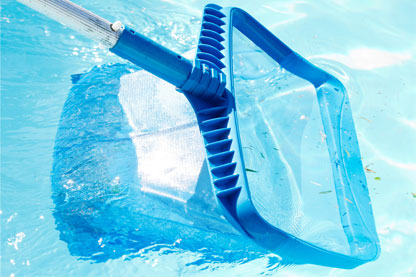 Adding a swimming pool to your backyard offers numerous leisure, exercise, and entertainment opportunities for the entire family. If you're undecided about whether you want an in-ground or above-ground pool, consider some of the standard perks of each.
In-ground pools are typically more attractive, with better varieties and more features available, plus they're longer-lasting and less likely to be damaged during high winds and storms. Above-ground pools are usually much easier and faster to install, cost less, and require less maintenance with repairs usually costing less. But how do they stack up when comparing upkeep?
General In-Ground Versus Above-Ground Pool Maintenance
In-ground and above-ground pool maintenance involves several daily, weekly, and monthly tasks. Typical tasks are very similar for both types of pool, which include cleaning, filtering, skimming, vacuuming, and maintaining water chemistry balance.
In general, above-ground pool maintenance is considered easier simply due to the smaller size and water volume of most above-ground models. However, even much bigger in-ground pools are sometimes easier to keep clean due to larger, more effective pumps, filters and cleaning equipment. Because many above-ground pools aren't surrounded by a deck, tasks like skimming, vacuuming and cleaning the inside of the pool are often more difficult. You aren't hampered by this issue with an in-ground pool.
Upkeep Comparison Based On Pool Materials
You should also consider the pool's building material and how it may affect the required level of maintenance. Above-ground pools are sometimes made of fiberglass but most often made with vinyl liners.
Vinyl pools require standard maintenance but with extra attention on cleaning dirt and grime from the walls to prevent water lines. Vinyl liners will also need to be replaced at some point, no matter how well you care for them.
In-ground pools can also be made with vinyl liners, but the more popular choices are concrete or fiberglass. These materials hold up much better but differ greatly on upkeep.
Fiberglass is naturally nonporous, which translates to fairly low maintenance, while concrete is permeable and tends to absorb chemicals, requiring higher levels of maintenance.
Long-Term Maintenance Comparison
When comparing upkeep, you must also consider long-term in-ground and above-ground pool maintenance. This includes replacement, repair, and renovation costs. Because above-ground pools are simpler in design, they have fewer things that can go wrong. When something does go wrong, repairs typically cost less than those for an in-ground pool.
On the flip side, concrete and fiberglass in-ground pools are highly durable and last longer, which means replacement is a much less common occurrence. While in-ground pools may be refurbished about every 25 years with new tile and coping, plaster and equipment, they can easily last 50 years or longer.
Above-ground pools made of high-quality vinyl have an expected lifespan of 20 to 30 years, but the liner itself may require replacement every six to 12 years, depending on the thickness and upkeep.
Winterization Maintenance Comparison
There are some notable differences between winterization tasks. One huge difference is that an in-ground pool has underground lines you must ensure are completely void of water, so it doesn't freeze during the winter and potentially damage the lines.
You won't have underground lines to contend with on an above-ground pool, but ice can cause a different problem. If you're unaware of a leak, even a small one, an above-ground pool can be devastated during the winter months.
When ice forms in the pool, it pushes against the walls of the pool, and the water underneath the ice supports it. As the ice begins to thaw, it drops from the walls and into the water below.
If the water is low or completely drained due to a leak, the ice crashes to the bottom of the pool, potentially ruining the liner, and the walls will be crimped.
Turn To The Swimming Pool Experts
At Valley Spas & Pools in Hamilton, New Jersey, we understand how it important it is to purchase the right type of pool for your personal needs and budget. Upkeep is an important comparison to make before embarking on this important financial decision, and we're here to help.
We have 60 years of industry experience and can explain all the pros and cons of both pool types. Visit our showroom, conveniently located on Route 33 in Hamilton, or contact us at 609-587-1772 to learn more about your pool options today.