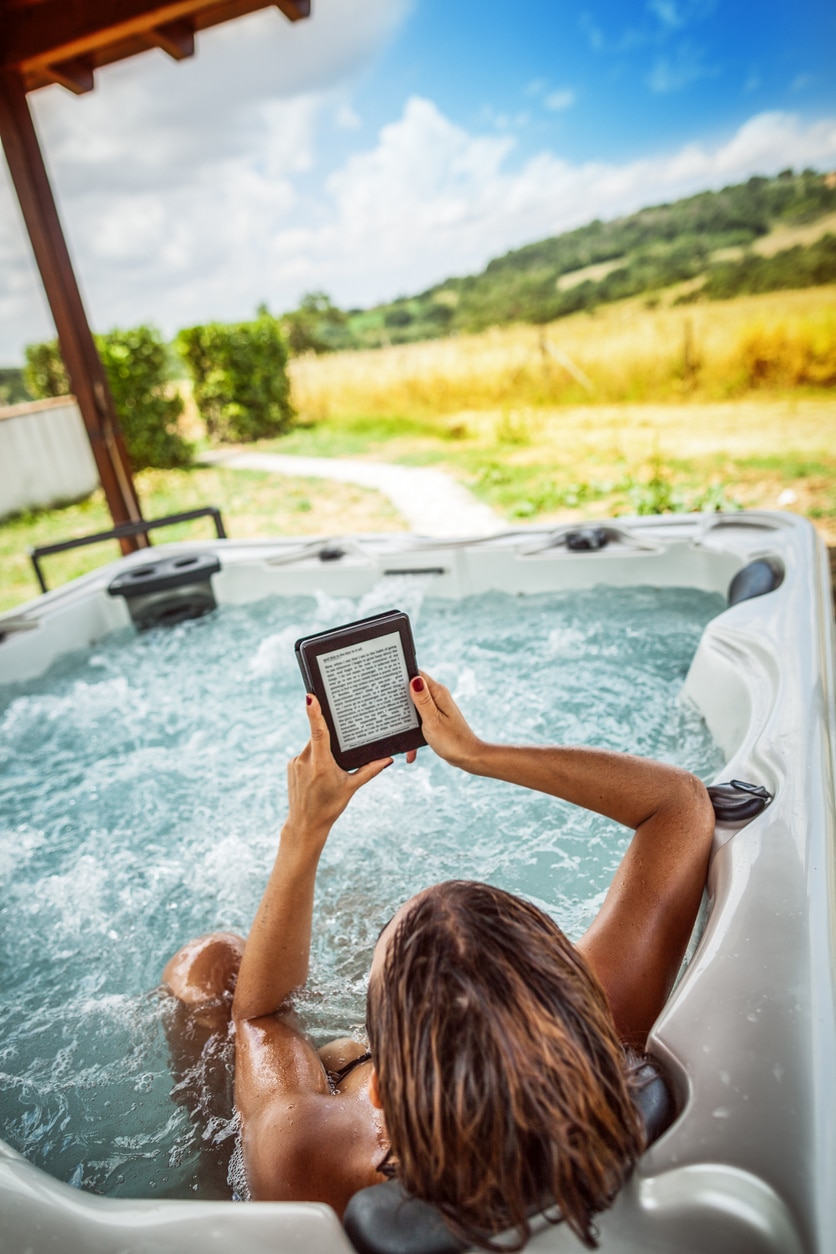 Curious about saltwater hot tub benefits? Whether you've been researching a hot tub buy for months or just learning that saltwater options exist, Valley Spas & Pools is here to help you explore the fascinating world of home spas, so you can decide which purchase best suits your needs. Check out what makes saltwater tubs so special, and start building your outdoor living oasis today.
Fewer Chemicals (And No Chlorine Smell)
Many pools and hot tubs require chemicals, such as chlorine or bromine, to help clean the water, but some people don't like the resulting smell or how those chemicals make their skin feel. Saltwater hot tubs offer a less fragrant and gentler alternative by using salt to spur a chemical reaction, creating chlorine only as needed. This on-demand approach prevents chlorine build-up and requires less maintenance, too (more on that in a minute).
Less Likelihood Of Skin And Eye Irritation
With less chlorine comes a lower chance of chemical-related irritation. If you find that your eyes burn or your skin and hair feel tight and itchy after swimming in a pool, you may be sensitive to chlorine. Saltwater tubs flip the script by providing water that feels silkier, softer, and less drying. As a result, you emerge feeling relaxed, hydrated, and delightfully smooth from head to toe.
Increased Buoyancy For More Relaxation
If you've ever seen photos of people bobbing along in the Dead Sea, the saltiest body of water on the planet, you already know that saltwater makes the human body incredibly buoyant. The more you float, the less pressure gravity puts on your joints. This makes saltwater hot tubs an ideal choice for anyone who wants to offload stress and soothe body tension, sore muscles, and joints.
Low Maintenance
Hot tub maintenance varies from model to model, but some saltwater tubs only have to be drained once a year. Compare that to chlorinated hot tubs that often need draining and refilling three or four times a year. The ability of saltwater tubs to automatically generate chlorine means you won't have to spend time tediously measuring out chemicals.
Saltwater hot tubs also tend to get less foamy. The lack of froth helps prevent those unsightly scum lines from marring your tub. Instead of scrubbing the rim, you can hop right in whenever the mood strikes.
Better Water Conservation
For hot tub enthusiasts interested in a more environmentally friendly way to relax, saltwater tubs could be the best choice. Because saltwater tubs require just one-fourth the yearly drains and refills that traditional chlorine tubs require, they help you save water. This lowers your utility bills and helps conserve resources so you can enjoy a nightly soak with a clear conscious.
Experience Saltwater Hot Tub Benefits Firsthand
Saltwater systems may not be for everyone, but for people with sensitive skin and an interest in conservation, saltwater tubs offer a softer, low-maintenance alternative to traditional systems.
For more information on hot tubs, accessories, such as cover lifters and handrails, and other backyard features, contact Valley Spas & Pools at 605-587-1772 or contact us online. Our experienced team is ready and eager to help you design the home retreat of your dreams, so you can get the fun, peace, and stress-free "me time" you deserve.