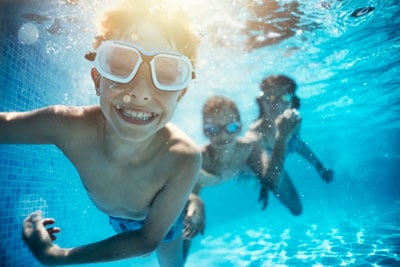 There's nothing quite like having a swimming pool in your own backyard. From early morning laps before work to fun in the sun with the family, the pool is your place to play and get in a good workout. At Valley Spas & Pools, we know how important swimming can be to your physical and mental wellbeing. Here, we'll explore some of the benefits of using your pool for fitness and how you can keep up the pace while staying cool and relaxing.
Dive Into Physical Fitness
Did you know that swimming laps in the pool for 60 minutes can burn over 400 calories? From strengthening muscles to increasing flexibility, swimming is a full-body workout that can do wonders for your physical fitness inside and out. Benefits of swimming for exercise include:
Easy On Your Joints
Thanks to the buoyancy of water, swimming is a low-impact exercise. The water gently supports your body, making it easier on your joints than activities on dry land. This makes it great for seniors, pregnant women, and people with injuries, arthritis, and disabilities.
Boosts Energy Levels
As contradictory as this may seem, lack of physical activity is often the cause of lower energy levels and fatigue. Introducing swimming into your weekly routine can help provide the boost you need to feel more energized.
Helps You Stay Healthy
Lap swims work your cardiovascular system, making you less susceptible to certain diseases. It's not only great for reducing the risk of stroke and heart disease, but it might also help prevent Type 2 diabetes.
Slows Signs of Aging
Swimming can reduce your blood pressure, strengthen your muscles, improve circulation, and more — all things that can help slow the physical signs of aging.
Swimming is also just plain fun, making it more likely you'll complete workouts. The right swimming program can make a difference in your physical wellness as well as your mental health.
Swim Toward Better Mental Health
Whether you're racing a friend to the deep end or working on your breaststroke, the benefits of swimming extend all the way to your brain. Here are some ways this sport can be good for mental health:
Boost Your Mood
During exercise, your body releases endorphins, serotonin, noradrenaline, and dopamine — the "feel good" chemicals. While it certainly feels good to beat your time in the 800 m, swimming itself inherently puts you on Cloud 9.
Reduce Anxiety, Stress, and Depression
Exercise is a great way to release stress, but it also can ease anxiety and depression. Adding swimming to your regular self-care practice can help put you in a better place mentally.
Improves Cognitive Function
Swimming regularly can help improve memory and overall cognitive function. It reduces inflammation and insulin resistance in the brain, making room for new cells to grow.
Swimming is also a great tool for living more active, social lives. Whether you're young or young at heart, swimming can strengthen your social wellbeing, combat loneliness, and make it easy to positively connect with like-minded individuals. Are you ready to jump in?
Keep Your Pool Workout-Ready
When you're in the zone, making sure to keep your swimming pool in pristine condition can help your weekly workout routines go smoothly. Whether you need supplies or services, the professionals at Valley Spas & Pools in Hamilton, New Jersey are here to help. Reach out today to learn more.