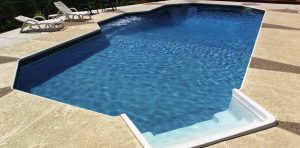 As the Hamilton, New Jersey area's premier full-service pool sales and installation business, Valley Spas & Pools is fully equipped to outfit your property with a brand-new in-ground pool that's precisely tailored to your preferences. Our durable, steel-wall pools can be crafted in nearly any shape imaginable and outfitted with a range of upscale features, from spas to waterfalls and beyond, to help complete the look and feel of your backyard. But with so many options available, it may be difficult to determine which type of in-ground pool is best for you.
The Basics
While there are plenty of pool designs that will help your property stand out from the crowd, you may simply prefer a pool that's versatile and functional. If that's the case, consider a rectangle or oval pool. Rectangle pools are a common selection for homeowners seeking a comfortable place to cool off after a long day at work with an evening lap swim, while the softened corners of oval-shaped in-ground pools create a more relaxed look. Both shapes effortlessly accommodate water sports equipment around the perimeter thanks to their straightforward design.
Look Natural
Homeowners with a keen eye for design may prefer an in-ground pool that lends itself more naturally to the flow of their landscaping. This is where pools with softer curves, such as kidney, oasis and lagoon in-ground pools come into play. The curved walls create a flowing look that better imitates natural bodies of water to offer a harmonious appearance that complements the aesthetics of your outdoor area.
Flaunt Your Sophisticated Side
If you're seeking to create a swimming space that represents the pinnacle of luxury, you'll likely prefer a Roman or Grecian in-ground pool. These configurations are based on the standard rectangle pool, but they take things a step further with inspiration from classic art to blend elegance with simplicity – Roman in-ground pools feature stylishly rounded ends, whereas Grecian pools showcase cut corners to create an octagon shape.
Create the Pool of Your Dreams
Valley Spas & Pools has garnered the time-tested expertise required to craft luxurious in-ground pools in virtually any shape in order to meet the varying needs of our clientele. To begin your project, contact us online or reach out by phone at 609-587-1772.