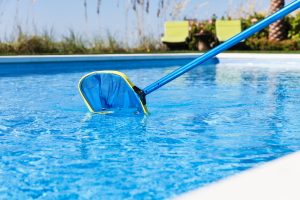 Although in-ground and above-ground pools require their fair share of maintenance, the right equipment can make pool upkeep a breeze. Conveniently located in Hamilton, New Jersey, Valley Spas & Pools offers a wide variety of must-have pool supplies designed to keep your pool in top condition, no matter which style you've installed. Visit our showroom at 1941 Route 33, Hamilton, New Jersey to explore our maintenance equipment in person or to discuss your individual maintenance needs with a member of our experienced sales team.
Maintenance Equipment for In-Ground and Above-Ground Pools
Cleaning and performing additional maintenance is a fundamental element of pool ownership. Well-maintained pools not only help make each swimming experience as enjoyable as possible, but showcase a pristine, blemish-free look that complements your home's outdoor relaxation and entertaining area. Valley Spas & Pools offers a diverse selection of supplies to help you clean your pool, including:
Nets: Essential for basic, everyday cleaning, pool nets typically feature long – sometimes extendable – handles that allow you to reach into the water without ever having to enter the pool.
Brushes: A pool vacuum goes a long way, but persistent grime and dirt may not come off without the help of a reliable pool brush. Like nets, they're often paired with lengthy handles, making it easy to clean from the edge of the pool.
Thermometers: A comfortable temperature is a key element of an enjoyable swimming experience. Valley Spas & Pools offers thermometers for use in both in-ground and above-ground pools, making it easy to determine when your water is ready for entry.
Pool test strips: These pool maintenance essentials allow you to test the chemical content of the water in your pool to ensure a safe environment.
Liquid chlorine: Both in-ground and above-ground pools must be sanitized to eliminate potentially harmful pollutants, and many pools employ chlorine to get the job done. Liquid chlorine is generally easy to use – just pour it into your water.
Looking for something else? Valley Spas & Pools stocks a range of additional items, from major replacement parts to brand-new salt generators and beyond.
Visit the Valley Spas & Pools showroom or contact us today for more information on in-ground and above-ground pool maintenance supplies we offer.