SX
The SX is a small spa that performs.
The 3-person Hot Spot® SX™ spa comes complete with a Moto-Massage® DX jet and the same outstanding features you find in a full-size Hot Spring® spa. The SX includes a No-Fault® heater, and FiberCor™ insulation. This hot tub is part of the Hot Spot® Collection. The jet system offers an incredible 17 jets that relieve-tension in targeted areas including your back, neck, shoulders and calves. Designed to provide years of comfort, this spa is equally enjoyable, affordable and efficient.
Choose from several water care system options, including the FROG® @ease® with SmartChlor® In-Line system, that make it easy for you to enjoy sparking clean water.
SX Specifications
Seating Capacity
3 adults
Dimensions
6' x 6' x 33"
1.83m x 1.83m x .84m
Water Capacity
285 gallons/1,075 liters
Weight
720 lbs./325 kg dry;
3,620 lbs./1,640 kg filled*
Spa Shell Options
Pearl or Desert
Cabinet Options
Coastal Gray, Espresso or Teak
Jets – 17
1 Moto-Massage® jet
16 Directional Precision® jets
Water Care System
FROG® In-Line Cartridge Ready
Waterfall
n/a
Jet Pump 1
Wavemaster® 6200;
Two-speed
1.5 HP Continuous Duty,
3.2 HP Breakdown Torque
Jet Pump 2
n/a
Circulation Pump (Optional)
SilentFlo 5000®
Ozone System (Optional)
FreshWater® III Corona Discharge
Control System
IQ 2020® 115v/20 amp**
(Includes G.F.C.I. protected power cord)
or 115v/30amp*** or 220v/50amp***, 60Hz
Lighting
Blue LED light, dimmable; Splendors® multi-colored LED light, dimmable (optional)
Heater
No-Fault® 1000w/115v
Energy Efficiency
FiberCor® Insulation; Certified to the APSP 14 National Standard and the California Energy Commission (CEC) in accordance with California law
Effective Filtration Area
30 sq. ft., top loading
Vinyl Cover
3" to 2" tapered, 1 lb. density foam core
Ash, Caramel or Chestnut
Cover Lifter (Optional)
CoverCradle® , CoverCradle II, Lift 'n Glide®
Steps (Optional)
Everwood® or Polymer
Coastal Gray, Espresso or Teak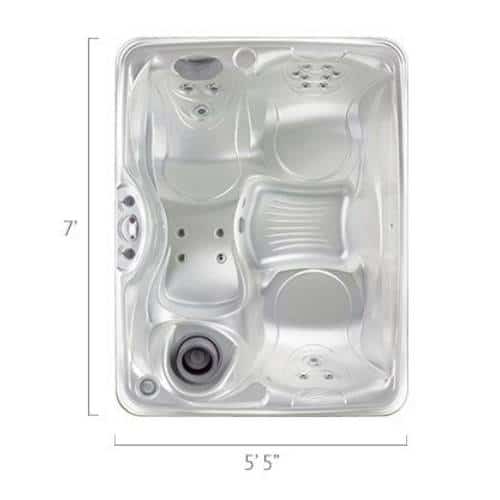 Seating Capacity
3 adults
Dimensions
7' x 5'5" x 29"
2.13m x 1.65m x 0.74m
Water Capacity
215 gallons/825 liters
Weight
635 lbs./290 kg dry
2955 lbs./1355 kg filled*
Spa Shell Options
Pearl, Sterling Marble, Tuscan Sun or Desert
Cabinet Options
Coastal Gray, Espresso, Teak
Jets – 18
(all with stainless steel trim)
3 Directional Hydromassage jets
1 Rotary Hydromassage jets
14 Directional Precision™ jets
Water Care System
FROG® In-Line Cartridge Ready
et Pump
Wavemaster™ 6200;
Two-speed
1.5 HP Continuous Duty
3.2 HP Breakdown Torque
Ozone System (Optional)
FreshWater® III Corona Discharge
Control System
IQ 2020® 115v/20 amp**
(Includes G.F.C.I. protected power cord)
or 115v/30amp*** or 220v/50amp***, 60Hz
Lighting
6 multi-color LED points of light, dimmable
Heater
No-Fault® 1000w/115v
Energy Efficiency
FiberCor® Insulation; Certified to the APSP 14 National Standard and the California Energy Commission (CEC) in accordance with California law
Effective Filtration Area
30 sq. ft., top loading
Vinyl Cover
3.5" to 2.5" tapered, 2 lb. density foam core
Ash, Caramel or Chestnut
Cover Lifter (Optional)
CoverCradle® , CoverCradle II, Lift 'n Glide® or UpRite®
Steps (Optional)
Everwood® or Polymer
Coastal Gray, Espresso or Teak